Happy Independance Day everyone! I have a great snack for all your get togethers for this upcoming weekend. These are sure to be a hit! I always requested this for my birthday cake as a child.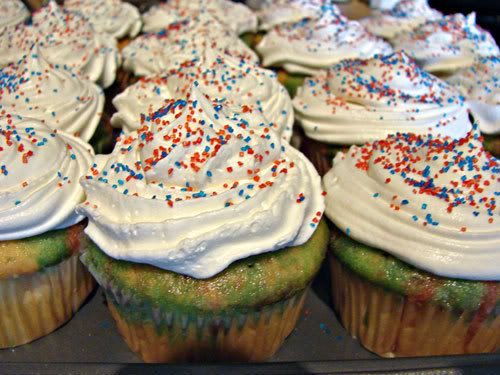 Jello Cupcake Treats
1 Pkg. French Vanilla Cake Mix (I used Duncan Hines)
Water
Oil
3 Eggs
1 3 oz. Red Jello
1 3 oz. Berry Blue Jello
2 Cups Boiling Water
Cool Whip
Sprinkles to garnish
Mix & bake cake according to directions on the package. I made these into cupcakes but this is great as a 9x13 cake also and a bit easier to prepare. Cool cake for a few minutes. Boil water. Boil water while the cake is cooling. Mix 1 cup of boiling water with one pkg. jello. Poke holes into the top of the cake. I used a fork, but you can also use a toothpick. The deeper you poke the holes into the cake the further the jello will set. Pour jello over the top of the cake. (This was the hardest part for the cupcakes. It was a bit messy and sticky. But it's super easy as a regular cake) Refrigerate cake approx. an hour. Mix 1 cup boiling water with remaining jello. Once cooled, poke more holes into cake. Pour remaining jello over cake. Refrigerate until set (approx. 1 hour). Top with cool whip and garnish with sprinkles.